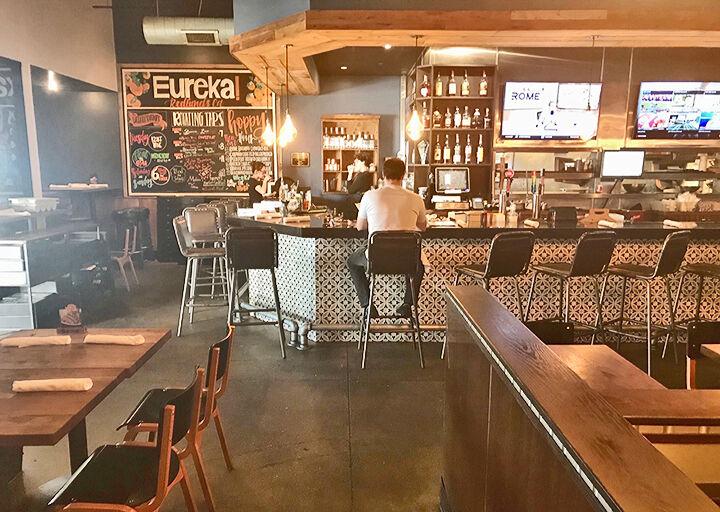 Normally, I wouldn't go to a burger place to do a review, since what I can grill at home would be much more satisfying. However, with respect to Eureka! in Redlands, I'd have to make an exception. To paraphrase the hungry words of the immortal Archimedes, "Eureka, I have found it!" Yes, the burgers are exemplary, but there are also starters, salads and non burger sandwiches which add to the allure of this gastropub.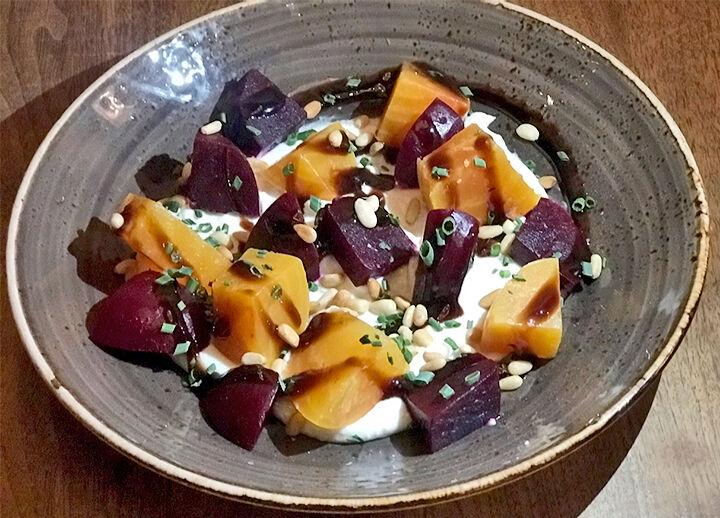 Take the chargrilled cauliflower, for example. Enlivened with a cilantro flecked lime vinaigrette and a slow building heat, dip a floweret into the accompanying thick garlic aioli and savor the crunch.
The spicy fried chicken sandwich is blessedly not one of those 5 alarm Nashville hot chicken wannabes where the object seems to be to incinerate your taste buds rather than complement the goodness of the chicken. Here, the heat level is more akin to Louisiana Crystal hot sauce and nicely accentuates the flavor profile without pure cayenne pain. Also helpful is the fact that the chicken is sprinkled rather than doused with the sauce. The edges of this gigantic deep fried chicken cutlet hung at least 2 inches outside the burger roll on each side, suggesting that an oblong ciabatta roll would work much better. Adding to the allure is the sweet, slightly vinegary cole slaw served atop the chicken, which nicely cuts through the bird's richness. It's also mayonnaise free, a breath of fresh air in an "over-mayonaised cole slaw firmament.
By all means, sample the roasted golden and red beet salad suspended in a pool of Greek yogurt and whipped feta cheese. The beets tasted as if they had just been plucked from the garden, but could have used a heavier drizzle of balsamic glaze to sweeten things up a bit. Crunchy toasted pine nuts and chopped chives added some textural complexity.
The sirloin steak salad was huge, but rather than cubes of steak, there were large slices of steak fanned out on the plate next to the greens. Yes, it makes for enhanced visuals, but I'd prefer the steak to be tossed with the greens. The steak was very tender and cooked to a perfect medium doneness as ordered. Small cubes of bleu cheese added a pleasant pungency to the overall flavor profile.
And finally, there were the burgers. They weigh in at almost half a pound, consisting of a blend of Angus and chuck, with enough fat content to maintain moisture through the grilling process, arriving table side at a perfect medium rare plus. The meat was luscious, deeply delicious and perfect, texture wise. It was difficult to say which burger, the Truffle cheese mushroom burger or the Fresno fig burger was better, but suffice it to say that both were sterling examples of the genre. The former is topped with a white truffle cheese sauce, havarti cheese and sauteed crimini mushrooms accompanied by sauteed broccolini.
It was an earthy, deeply delicious amalgam of flavors. The latter was served with virtually grease free sweet potato fries. One side of the roll was brushed with a lovely fig marmalade and the other with a spicy Porter infused mustard. The burger, itself, was draped with creamy melted goat cheese and slices of semi-crisp bacon. More is going on in the Fresno fig version, but both flavor profiles were outstanding.
There is an array of craft beers to complement this hearty fare, including one of my favorites, Modern Times fruit gose. There is also a small, but select wine list.
Eureka!
Where: 345 W. Pearl St., Redlands.
Hours: 11 a.m. to 11 p.m. daily. Happy hour 3 p.m. to 6 p.m. Monday through Friday.
Prices: Snacks $9.50 to $16, burgers $15 to $20, chicken sandwich $16 to $17.
Details: Indoor and outdoor dining. Pets allowed outside. Kid friendly. Delivery and takeout available.
For more information: Visit eurekarestaurantgroup.com/locations/redlands/ or call (909) 335-5700.