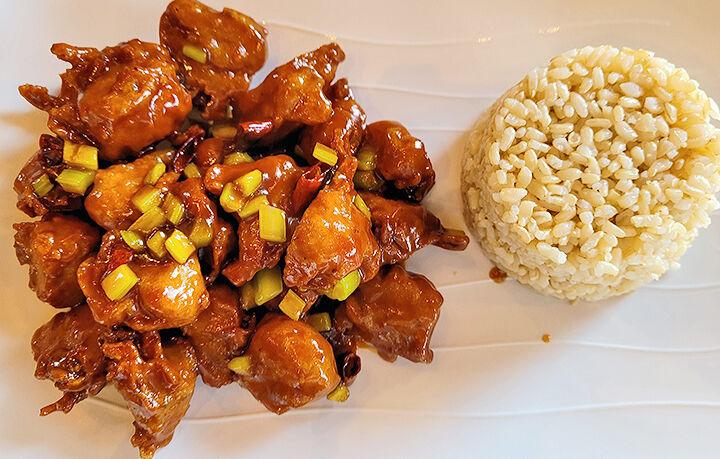 District Asian Eatery takes vegan food to a higher level
My experiences with vegan/vegetarian restaurants have been decidedly mixed up to now.
To clarify the difference between the two: vegetarians do not eat meat while vegans also do not eat meat or any animal products including milk, cheese and eggs. Both groups obtain their protein from plant-based sources such as lentils, peas, chickpeas, nuts, seeds, grains, soy products (including tofu and tempeh), edamame and other plant-based products such as textured vegetable protein and seitan.
Most of my previous experiences with meat substitutes were underwhelming, the texture of meat substitutes often seeming spongy or too soft to approximate the mouth feel of meat. Often viscous sauces are added in an attempt to enhance the dish or improve its mouth feel. That said, there's no question it's a healthy diet and certainly makes it easier to maintain a normal weight.
But then Vegan District Asian Eatery came along and fundamentally changed my views of how rewarding dining meatless could actually be. With two related restaurants in Chino Hills and Rowland Heights, this mini empire could be the culinary wave of the future, providing textures and flavors that can certainly offer a whole new take on meatless dining for the restaurant-going public.
Most of their dishes are soy based, with the judicious use of sauces and an uncanny ability to echo the texture we normally associate with meat.
We began with their version of barbecued "pork," drizzled with a sweet Chinese barbecue sauce, a bit softer than pork meat, but quite good.
The Szechuan wontons were excellent, filled with ground soy "beef," and flavored with a spicy broth containing red chilies and diced garlic … not quite nostril clearing heat, but plenty of flavor. Six wontons and chopped cilantro were floating in the richly flavored broth.
One of the distinct highlights of our meal was the batter-fried oyster mushrooms, a generous mound of quickly wok-fried stalks and tops, seasoned with salt and pepper, jalapeños and fried chopped basil leaves.
If you've snacked on truffle popcorn before, you'll appreciate how addictive a dish can be, and this is one of those items where it's hard to stop yourself until you see the bottom of the platter. Just watch out for the small squares of fresh ginger slices scattered about as they are quite potent.
Try dipping the mushrooms in their sweet and sour sauce for an added flavor dimension. This is a stunning dish from both a flavor and textural standpoint.
The Szechuan eggplant served with brown or white rice was also first rate.
Luscious creamy slices of Japanese eggplant tossed with sliced carrots and chopped green bell peppers provided great eye appeal, textural complexity and a bold lingering spiciness on the palate from an abundance of garlic and chili. Mix the veggies with the rice if you need to tamp down the heat level.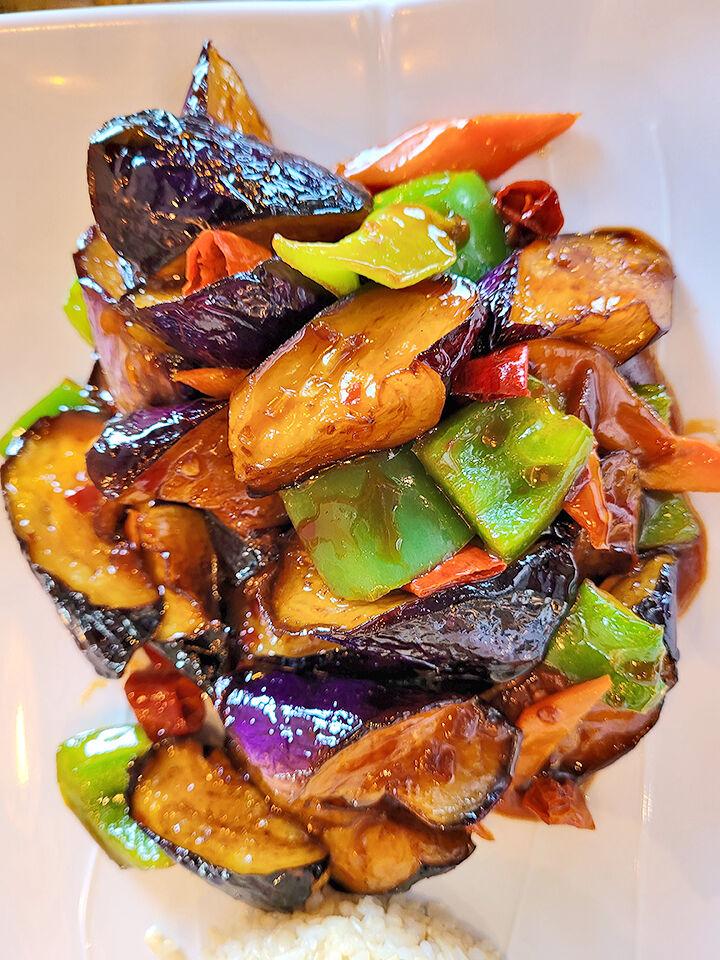 The final two items really sealed the deal for me with respect to how far vegan fare has come as a substitute for meat products. The orange chicken, though it sounds mundane, incorporates orange zest into the mix of spices.
The soy protein is enveloped in a soybean skin and quick fried in a hot wok in hot oil to provide an outside crispness with an inner softness that mimics chicken meat in consistency and is delicious to boot. Diced celery adds a splash of color.
The final dish was "shrimp" stir-fried and tossed with thin noodles and shredded vegetables. The "shrimp" bodies, which use gluten in their preparation, were virtually indistinguishable from real sliced shrimp appearance-wise. They're smaller than the real thing, but the mouth feel is uncannily similar.
Overall, this is probably the best vegan meal I've ever experienced — excellent flavor profiles, lower in calories, healthier ingredients and pleasing eye appeal. What's not to like?
David Cohen is the former cohost of the PBS show "Table for Two."