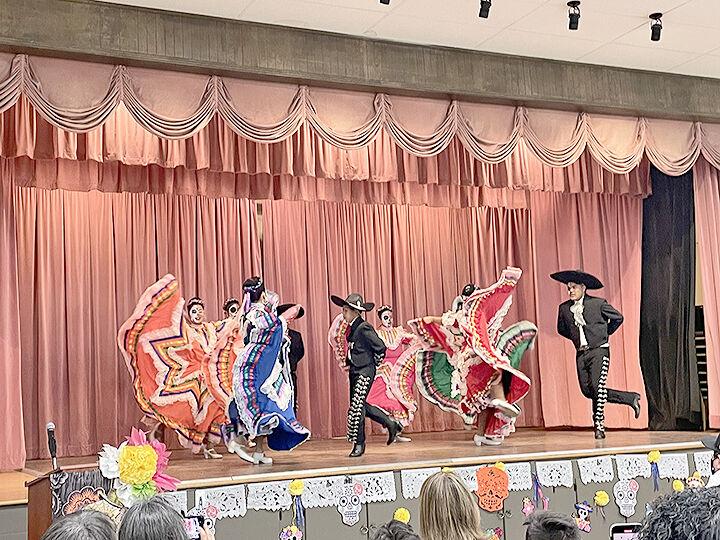 Colorful paper skulls and tunes from Los Plateados Mariachi band filled Smiley Park in the afternoon of Nov 1. A.K. Smiley Public Library hosted its fourth annual Día de Los Muertos celebration, focusing on love, remembering and respect for the departed.
"I have to confess, that 10 years ago I didn't know much about Día de Los Muertos," said Smiley Library Director Don McCue. "It's an important cultural holiday. And as I have learned more and more, I think it's more than just a Mexican–American holiday, I think it speaks to all people. All cultures should revere their ancestors.
"We do it here at the Smiley with the Smiley twin brothers and the Watchorns that built the Lincoln Shrine. So, it's a great way to reflect on our ancestors and those who built the foundation for us."
New to the event this year was lunch made by The Taco & Funnel Cake Ladies and Nicho's Ice Cream.
"Great donors wanted to help with the event. And what else brings the community together than great food," said McCue.
Another new addition was the presence by the Redlands California Family History Center.
"It's a big hobby right now. People are really into finding out who they are to kind of anchor them to history," said Kris Scullan, volunteer with History Center.
She has been looking into her family history for 40 years.
"I found out Ben Barton is my uncle. His [name] is for Barton Road and Barton Flats," she said. The Barton Villa is also named after him.
"[My grandparents] came from New Mexico down this way to Rancho Cucamonga. Back then it used to be miles and miles of grapes," said John Martinez of Grand Terrace.
He came to find out more about his ancestry.
"My daughter mentioned this [event] to me. I got to go over there. This is all worth it," he said.
The attendees made crafts, stood in line for face painting and had lunch on the lawn. Kristen Gomez of Redlands brought her daughter and friend to the event for the first time. Normally, they would celebrate Día de Los Muertos at home and at their church. This year, she thought it was important to come here.
"It brings everybody together from different cultures and different beliefs," said Kristen Gomez.
In the evening program, that was exactly the sentiment that Mauricio Arellano, Redlands Unified School District Superintendent mentioned: "I want to thank the Smiley Library. I am proud to see the city embrace the beautiful diversity that exists in Redlands."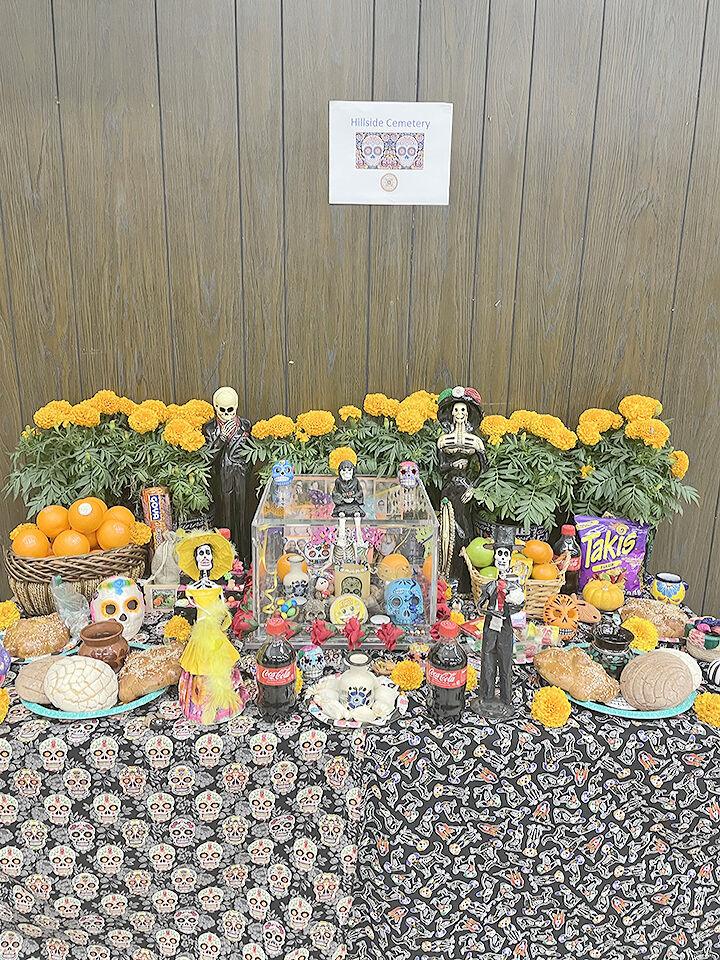 Eloise Gomez Reyes, the State Assembly majority leader also took to the stage. "Today I get to talk to you about Día de Los Muertos. To honor those who have passed not with fear or judgement, just that it's a part of life. We must never forget those who went before us," she said.
The walls were lined with ofrendas, altars to deceased family members and ancestors from local families and organizations.
Socorro Contreras, a member of Conversation Helps Adults Transition, spoke in both Spanish and English about the symbols and different elements of the ofrendas. For example, that a cross of salt on the ofrenda makes sure that the spirits visiting are not corrupted.
The importance of understanding your cultural background was made by Jenna Cortez Aguirre, director of the St. Mary's Ballet Folklorico of Redlands, established in 1974. She presented the findings from her dissertation "Dancing Our Way to College" on how being immersed in Folklorico and learning about the different regions, cultures and languages of Mexico helped children becoming successful adults.
The Contemporary Club was packed with a clapping and hollering audience when the youth of the St. Mary's Ballet Folklor­i­co took the stage. A full day of learning, remembering and honoring the dead was coming to an end. In all, up to 900 people attending the day's program a significant increase from last year.
"Hopefully, we're building on last year's success and will make it even bigger," said McCue of the library hosted event.
Ofrendas lined the walls at the Día de Los Muertos event at the Asistencia from local famili…
The second annual Día de los Muertos event hosted by the Redlands Conservancy at the Asisten…