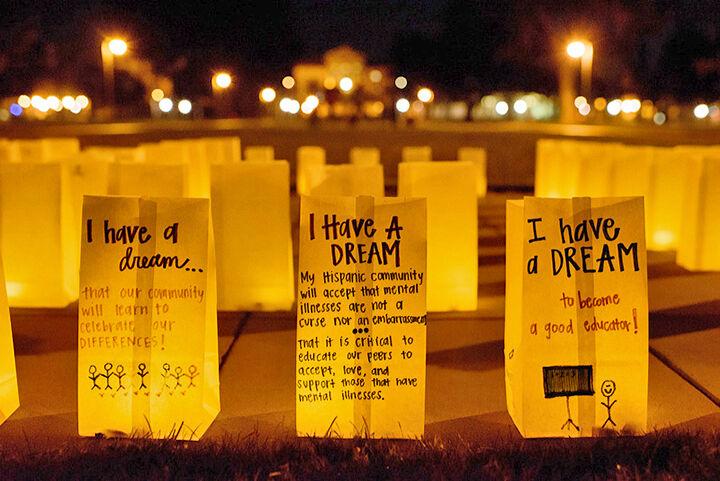 Martin Luther King Jr. Week starts at the U of R on Jan. 16.
Annual Dr. King Service
When: 7:30 p.m. Sunday, Jan. 16.
Where: Memorial Chapel.
 Host: School of Music and chaplain's office. The annual service will begin this year's MLK Week. Black Student Union will host a candlelight vigil following the service. Hosted by the School of Music and the chaplain's office.
Candlelight Vigil
Following the service at the front of the chapel at 8:30 p.m. Sunday, Jan. 16.
Hosted by Black Student Union.
All-Campus Peace Walk
At 10 a.m. on Martin Luther King Jr. Day Monday, Jan. 17. Redlands Lawn (aka Pepper's Lawn next to Gallery Building on Colton Avenue).
Start at Redlands Lawn. Walk to the fire pit. Walk to the front of Memorial Chapel. Return to the Redlands Lawn.
Community parking is available at the parking lot on the north side of the Memorial Chapel.
MLK Poetry Slam
6 p.m. Monday, January 17 at Hunsaker Lounge.
Call for submissions: Spoken word and visual artists, poets, singers, dancers, and various talents are called to enter a piece that embodies the title of Dr. King's final book, "Where Do We Go from Here: Chaos or Community?"
Complete the entry form at forms.office.com/r/rkW70SGCwb by 5 p.m. Wednesday, Jan. 12, Email entry questions to bsfsaa@ redlands.edu.
 Hosted by: The Black Student, Faculty, Staff, Administrators and Alumni Association (BSFSAA).
MLK Youth Talent Camp
10 a.m. to 2 p.m. Monday, Jan. 17. Free admission for students K-12.
For more information, email jackiegreenvanguard@yahoo.com or call (909) 793-1074 or (909) 557-7548. Community partner event hosted by Second Baptist Church.
Day of Dialogue
10 a.m. to 4 p.m. Tuesday, Jan. 18. North University Hall, Room 106. Three panel conversations delving into this year's theme.
Faculty, staff, administrators, students and community members will examine King's writings on "Racism and the White Backlash."
Hosted by School of Education, Center for Educational Justice.
Blanket Making for Get on the Bus
A program of the Center for Restorative Justice Works.
10 a. m. to 1 p.m. Tuesday, Jan. 18, and Wednesday, Jan. 19, at the Hunsaker Center, second floor, north side.
Hosted by Community Service Learning.
Working for the World
Alumni & Staff on Life After the Peace Corps
4 to 5:30 p.m. Thursday, Jan. 20. Casa Loma Room RSVP: ocpd.redlands.edu/events Hosted by Office of Career & Professional Development and the CAS Dean's Office.
'Where Do We Go from Here?'
Luminaria Ceremony, 6 :30 p.m. Thursday, Jan. 20. Memorial Chapel steps. Hosted by Community Service Learning
Not Just a Game: Power, Politics and American Sports
Documentary Screening.
7 p.m. Thursday, Jan. 20, at Gregory Hall, Room 161. Hosted by Bulldog Athletics.
Paint and Dessert
11 a.m. to 2 p.m. Friday, Jan. 21, at the Hunsaker Lounge. Hosted by CDI and Social Affairs.
Digital camera class
A small-group beginner digital camera class will take place from 8:30 a.m. to 11:30 a.m. Saturday, Jan. 8, at Sylvan Park in Redlands. The event, hosted by Kevin Brian Toohey, and is designed for ages 50 and older, but all are welcome.
Toohey is a professional and credentialed photographer instructor. The class is limited to six participants. For more information visit, learnyourcamera.com.
Cars and coffee rev up Saturday
Redlands Cars and Coffee is happening Saturday in the parking lot of Escape Craft Brewery at 440 Oriental Ave.
This free monthly event takes place from 9 a.m. to 11 a.m. every second Saturday of the month. Everyone is invited to take part in this event even without having a car in the show.
Escape Brewery will open at 10 a.m. for brunch, so those that want to see cars and grab food are welcome.