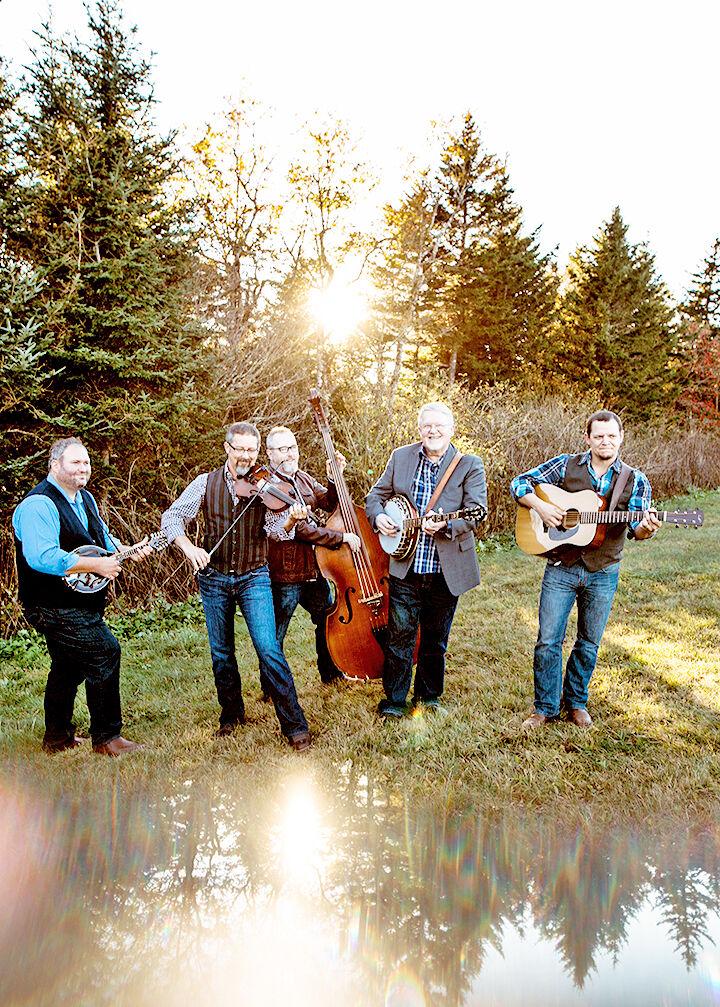 Known as the "Father of Bluegrass," American singer and songwriter Bill Monroe once commented on the genre he created.
"Bluegrass has brought more people together and made more friends than any music in the world," he said. "You meet people at festivals and renew acquaintances year after year."
The Redlands Bowl has acquired much the same reputation through decades of popular programs. So it's fitting that the Redlands Bowl Performing Arts is welcoming outstanding representatives of the bluegrass tradition on Friday evening, July 24.
The members of Balsam Range will present an exclusive program for viewers from their North Carolina studio as they share a unique brand of American acoustic music.
Balsam Range has been named the 2014 and 2018 International Bluegrass Music Association's Entertainer of the Year and has become one of the genre's most award-winning acts.
"In the beginning, we just got together, five guys from the same county that just wanted to play music together — just for the fun of it," said lead vocalist Buddy Melton. "We were just living in the same town and happened to be great friends, so it was an ideal scenario."
What are the odds that such diverse musical artists found each other to form this amazing band? It's astonishing. And each member contributes a special talent to the whole band.
Melton developed his talents playing the fiddle and bass in college. He has performed with bluegrass luminaries David Holt and Doc Watson and has also won the association's Male Vocalist of the Year awards in 2014 and 2018.
Darren Nicholson is noted for his gifts of singing and playing the mandolin. He has frequently appeared on the Grand Ole Opry stage, has released three solo albums and recently earned a Grammy nomination.
Tim Surrett displays his talents on bass and dobro. (What's a dobro? I wasn't sure either. It's a special resonator guitar known for amplifying volume). Surrett has performed with Brad Paisley, Vince Gill and the gospel group the King's Quartet. He has also earned a place in the Southern Gospel Hall of Fame.
Vocalist Caleb Smith plays guitar and has toured as a founding member of Harvest, a gospel group. He has also won Male Vocalist of the Year and Guitar Player of the Year at the Power Grass Music Awards. Smith is also an accomplished luthier with many well-known clients. (What's a luthier? I was stumped too. It's a craftsman who builds and repairs string instruments).
And Marc Pruett is a Grammy-winning banjo picker who has performed on four albums with Ricky Skaggs while also leading his own band for 10 years. He has an honorary doctorate from Western Carolina University was conferred for his contributions to bluegrass music.
The group has attracted worldwide attention and critical acclaim on the heels of eight hit albums and 12 additional International Bluegrass Music Association awards.
Among the stellar reviews are influential comments by David Menconi of Rolling Stone magazine.
"Balsam Range crosses plenty of boundaries," Menconi has written. "They are hitting a deft balance between the revered traditions of old-school bluegrass and the hopped-up eclecticism of contemporary newgrass."
I'm a newer but highly enthusiastic fan of Balsam Range. Their exquisite musicianship, powerful vocals and heartfelt lyrics combine to create emotional highs and lows full of nostalgic images, wise reflections and soulful moods.
When the members were younger and gathered to record their first album, they still didn't have a name. Inspiration struck when they thought about the Great Balsam Range — the mountains surrounding their home county.
"We thought it was a little pretentious to have 'great' in the name, so we just stripped that off of it and called ourselves 'Balsam Range.'" Melton recalled.
Their debut album, "Marching Home," was released in 2007 and includes guest participants Joe Diffie, Jim Van Cleve and Tony Rice. The album also features "Blue Mountain," which remains the band's most requested song.
Fast forward: In 2016, the group launched the Balsam Range Art of Music Festival. This two-day event, held at Lake Junaluska, North Carolina, is in the group's home county of Haywood. "It was created with the idea that Balsam Range fans from all over the world would be enticed to visit our home state," Melton said.
The festival generates more than $400,000 each year in local revenue. Featured performers have included the Atlanta Pops Orchestra and Shenandoah.
Let's follow the legendary Bill Monroe's advice by gathering together for a healthy helping of bluegrass, Balsam Range style.
And y'all be sure to look for the impressive luthier and the fella playing the dobro.
Wayne R. Scott is an award-winning writer, producer and director who serves as President of LifeHouse Theater, Redlands.
Upcoming
Balsam Range: The 97th season of the Redlands Bowl Summer Music Festival continues at 8 p.m. Friday, July 24, with the Redlands Bowl Performing Arts presentation of Balsam Range, one of the bluegrass genre's most popular and award-winning acts. Sponsored by Wingstop, Redlands and Highland, and Bob and Paula Driessnack. Balsam Range routinely sells out venues and festivals across the nation and at the Grand Ole Opry.
Children's workshops: Catapult will conduct the next Children's Summer Music Festival Workshop at 10 a.m. Saturday, July 25. Sponsored by The Contemporary Club, Redlands, the workshop will feature the fascinating art of shadow dancing with members of the world class dancers featured on "America's Got Talent. Aimed at young people ages 4 through 12, these continuing Redlands Bowl Performing Arts Children's Workshops are presented at 10 a.m. Saturdays on the Redlands Bowl YouTube Channel and Facebook Page. Upcoming workshops will feature sing-alongs, dance, acting basics and popular music.
Gilbert and Sullivan Players: At 8 p.m. Tuesday, July 28, the New York Gilbert and Sullivan Players will present "I Have a Song to Sing, O!" Now in its 45th season, the players America's preeminent professional Gilbert and Sullivan repertory ensemble. Sponsored by Esri, this exclusive Redlands Bowl program features Gilbert and Sullivan comic opera masterpieces as presented in more than 2,000 performances throughout the United States, Canada and the United Kingdom.
Cool Classics: At 8 p.m Friday, July 31, the Redlands Bowl Performing Arts presents "The Cool Classics for Cello and Piano," featuring acclaimed cellist Ruslan Biryukov and renowned Redlands Bowl conductor Frank Paul Fetta. Biryukov and Fetta will also lead the next Children's Summer Music Festival Workshop the following morning, Saturday, Aug. 1, at 10 a.m.
YouTube and Facebook: The Friday and Tuesday performances can be viewed live at 8 p.m. on the Redlands Bowl YouTube Channel (YouTube.com/c/redlandsbowl) and Facebook Page (Facebook.com/redlandsbowl).
Television: Friday programs will be rebroadcast at 8 p.m. Saturdays on Spectrum's Channel 3 and Frontier's Channel 35. Tuesday programs will be rebroadcast at 8 p.m. Thursdays on the same channels.
For more information: Visit info@redlandsbowl.org or by calling the Redlands Bowl Performing Arts office at (909) 793-7316.