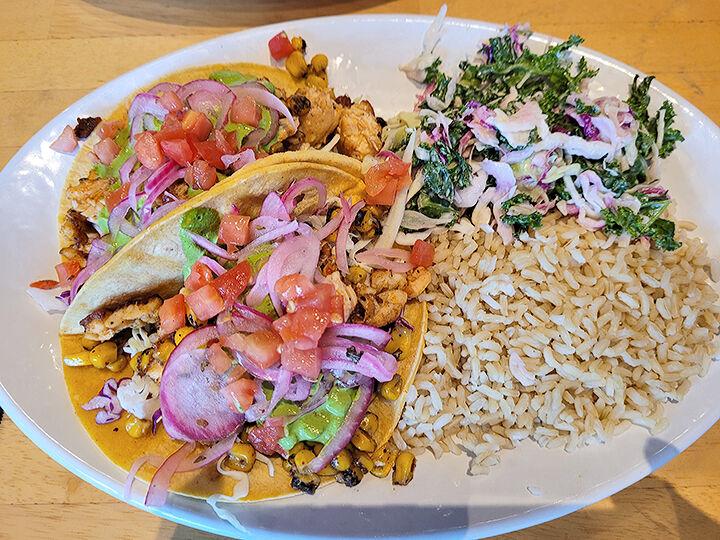 For those of you who follow me with any degree of frequency, you know that I'm not a big fan of large chain restaurants in general. Some have the lowest common denominator quality, substandard service and little pride in their product.
And then there's California Fish Grill where their motto is "Responsibly Sourced Seafood," ranging from line caught, to farm raised in natural pristine habitats. They are official partners with the Monterey Seafood Aquarium Seafood Watch.
Here at grill, the byword is freshness, be it ocean or fresh water, little is done to mask the pure fresh flavors of grilled fish. A dash of salt and pepper, perhaps a light drizzle of olive oil and a drift of sauce either over the fish or as a small cup on the side is all you need to let the fish take center stage.
We ordered the Louisiana Delta catfish salad. The filet is lightly blackened with garlic butter to a perfect doneness and served on a mound of assorted greens, chopped tomatoes, matchstick carrots and purple cabbage.
It is drizzled with a lime vinaigrette, and drizzled is the operative word as it was barely discernible. We requested an additional cup of the dressing and it significantly added to the flavor profile of the greenery.
Likewise, the side of ocean greenery, a slaw that included some strands of nori (green seaweed) could have used additional sauce. Sesame oil and vinegar would probably be ideal.
The Barramundi, a fish from the ocean waters off Australia, was perfectly grilled — flaky and moist and topped with a peri peri sauce (of South African origin). It has a sneaky heat that builds to a crescendo on the mid-palate. The accompanying side of fire-roasted corn was superb. The sweet corn was nicely charred and sprinkled with a smattering of red chili flakes, garlic butter, Parmesan cheese and cilantro.
The final grilled item was a branzino filet, also known as European striped sea bass. It's prepared in a half Cajun and half garlic butter sauce. Again, the fish was moist and succulent. Whoever runs the grill definitely knows how to cook fish. Each grilled fish item comes with two sides. We opted for virtually grease-free sweet potato fries and diced zucchini kissed with rosemary.
The Cajun salmon tacos came as a duo on double corn tortillas (flour are also available) filled with succulent salmon, toasted corn and an earthy cilantro forward Green Goddess dressing. My preference would be to remove the skin as it's oiliness can impart a distinct "fishy" aroma to the overall flavor profile. Kale salad was the side chosen for this dish.  I usually bypass any kale type salad because kale has too many rough edges and little in the way of flavor. This combination of kale and cabbage, however, worked exceedingly well, given the kale's surprisingly soft texture. There wasn't enough in the way of dressing, however, and the extra lime vinaigrette really enlivened this salad.
Our final dish was the Dynamite shrimp bowl. A plethora of shrimp, quick fried in a slow heat building dynamite sauce, turned out succulent, with a pleasing snap. They are accompanied in the bowl by rice, red and green cabbage, green onions, tomatoes and fresh cilantro as well as a sesame soy sauce which nicely tempers the heat of the dynamite sauce.
Your order at the counter and they give you a beeper which lights up when your order is ready.  Your dishes are placed on a large metal tray for transport back to your table. The counter staff is pleasant, if not particularly knowledgeable about the ins and outs of the available seafood. But given the quality and reasonable prices, it's easily overlooked.
David Cohen is the former co-host of the PBS show "Table for Two."