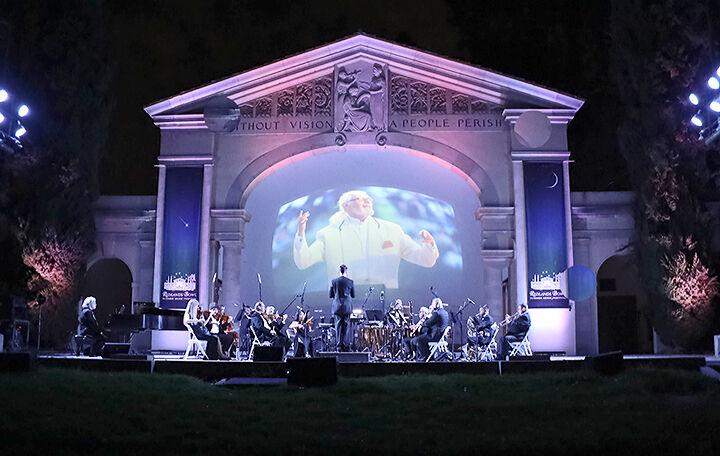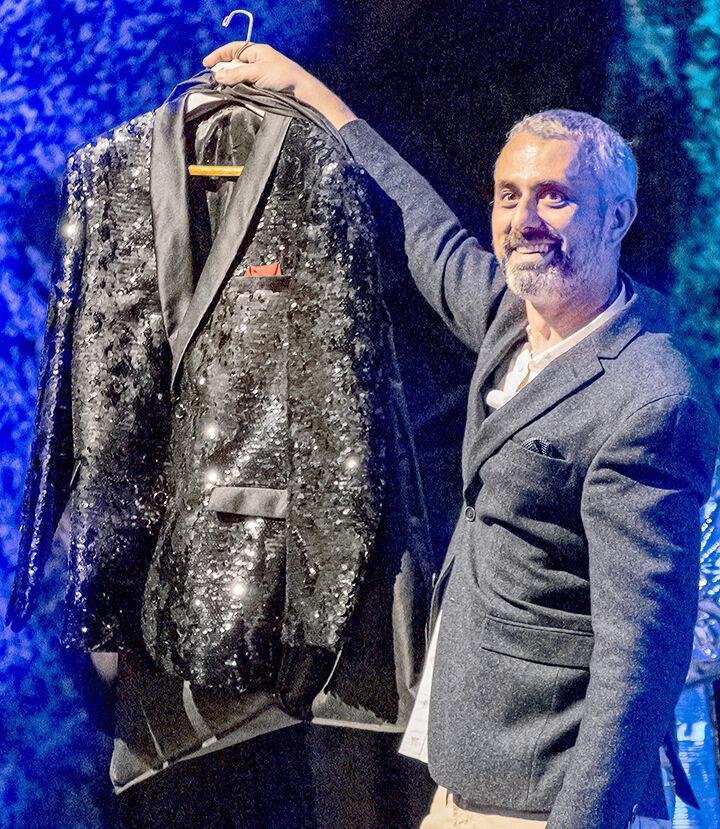 Two and a half hours wasn't nearly long enough to remember maestro Frank Paul Fetta. The evening, "A Musical Menagerie, Celebrating the Legacy of Frank Paul Fetta," began with stories and anecdotes about the well-loved conductor. More stories, more compositions and more laughter followed.
Members of Redlands Bowl Performing Arts and others who loved Frank welcomed Rafael Fetta, the maestro's son.
Rafael reminisced about feeling like he owned the stage after his dad was so comfortable on it, and at the end of one performance, ran down the aisle and up to his dad, noting "somewhere there is a picture of a younger Frank holding 3-year-old me." Rafael then produced one of Fetta's signature jackets to donate to the Redlands museum when it opens, and also handed a baton to Nathan Gonzales, master of ceremonies for the evening and member of the Museum of Redlands board.
For those who never had the opportunity to know him, the night showed glimpses of Fetta's personality. One of the first tributes mentioned Fetta spent as much time with a 5-year-old as he did with a mayor. Memories brought the larger than life musician into focus as a man of passion, vision and joy.
To help celebrate the local legend were conductor and renowned opera singer Brooke DeRosa, conductor Nolan Livesay, returning artist Lana Love, a Redlands favorite, opera singer Ralph Cato, mezzo soprano Nandani Sinha and opera singer Haquamai Sharpe.
Audience members were treated to show tunes, songs from film, musicals and opera selections, rock and original compositions by DeRosa, Livesay, and Love.
The tribute orchestra, conducted by Livesay and DeRosa, began with an Overture to Candide and then accompanied Lana Love as she embodied singers of yore. Her almost formal gown belied the absolute joy she exhibited onstage. After singing, her strong vocals and clear vibrato carrying throughout the bowl, she took her place at the piano and played her own composition.
Following Love, solo cellist Leah Hansen remembered meeting Fetta for the first time at 13 years old, and feeling rather nervous, appreciated that he spoke to her like an adult, showing her the next steps in becoming a professional musician.
Other anecdotes recalled Fetta forgetting his shoes and needing to borrow a slightly smaller pair; loaning a piano, one of many he had around his house, because the house didn't feel like home without one.
As they listened to the tribute, members of the audience whispered their memories and anecdotes about Fetta. Tim Gehrke said he had been to many symphonies and the conductor wouldn't say a word — that wasn't Fetta's way. He interacted with the audience, letting them know what he was doing and what was going on. Others noted that Fetta filled the space.
A quartet of women from Orange loved Livesay's contribution and slideshow that went with it, matching the pictures to the notes.
A menagerie is "a strange or diverse collection of people or things" and the music that entranced the audience, which came from all corners of the globe and different genres, qualified. Tuesday's tribute by so many, and appreciated by many more, was a labor of a love for a man who did so much for the Redlands musical community and beyond.
Sponsor: Glenn Vernet