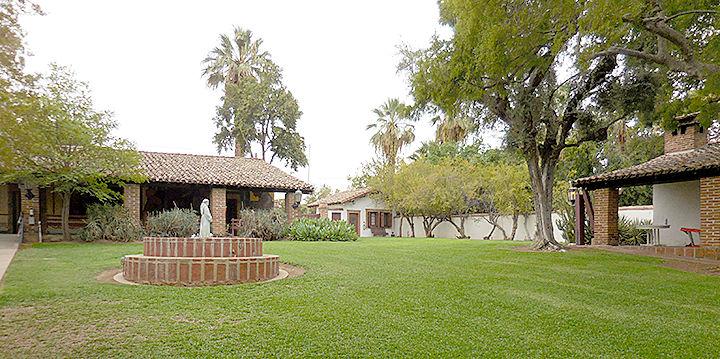 The Asistencia is getting lots of love and attention lately as Redlands Conservancy volunteers work to get the historic site ready for major events happening this fall — weddings, meetings and the conservancy's own annual social on Oct. 5.
Volunteer Site Manager Heather Ross holds almost weekly activities for volunteers to help improve landscaping, clean tile floors, trim trees, spread mulch, and otherwise maintain the shady courtyard and adobe buildings.
When Redlands Conservancy received the Asistencia from San Bernardino County Museum in November 2018, the buildings, including tile roofs, had been restored and the sewer system had been upgraded. The facility was in good condition and needed mostly cleaning and landscaping, which is what Ross and the volunteers have been up to for eight months.  
Volunteers come from various places. The conservancy board of directors, responses to email blasts, responses to news articles, offers from organizations including the Community Service Day and churches, and from people who have rented the space and just want to be part of the project — all have been part of the volunteer crews.
Since November 2018, volunteers have cleaned all the windows, washed all the interior walls, cleaned the tile floors, cleaned and polished brass candlesticks, polished furniture, dug up water pipes, trimmed vegetation, planted a new garden and spread mulch.  
Volunteer Steve Petite has completely cleaned and polished the commercial kitchen.
On Friday, Aug. 9, more than 20 volunteers, ages 13-18, gathered to patch cracks and paint a garden wall, dig up and replace hidden sprinkler heads, clear more dead lantana that had covered about 300 square feet of garden space, and, of course, spread more mulch.
Another volunteer group, the Mentor California group, has been reporting for volunteer duty most Fridays to help with landscaping tasks. Before summer, that same group had volunteered once a week at Redlands Gateway Ranch garden.
According to Redlands Conservancy, volunteers are always welcomed at the Asistencia and Redlands Gateway Ranch.
Volunteers are asked to sign Hold Harmless agreements and are provided with training appropriate to the tasks.  
The upcoming annual social on Oct. 5 will be the first Redlands Conservancy major event held at The Asistencia.  
"Holding our major fund-raising event at the Asistencia will be a fitting celebration for our silver anniversary," said Robert Dawes, conservancy president, adding that Redlands Conservancy has been working to preserve the community's historic built environment since 1994.
 "We hope the community will come out and enjoy the hard work of all our volunteers to make this site spectacular."