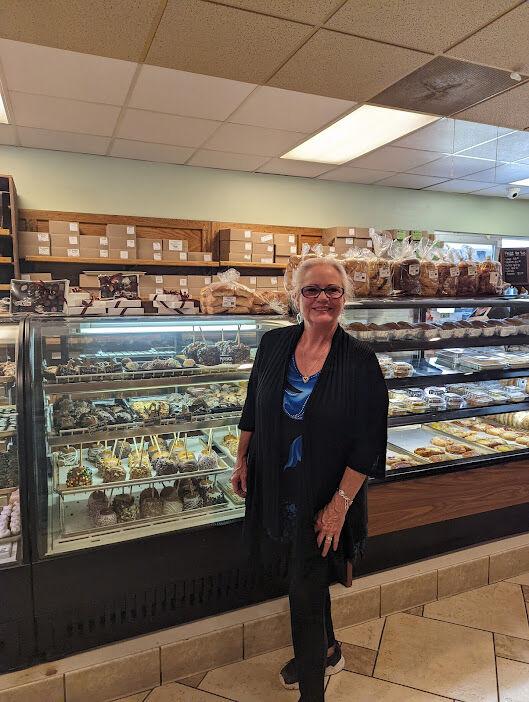 Redlands now has its own homemade candy and chocolate shop. Village Candy Kitchen opened at 223 E. State St. and includes a bakery, deli and coffee shop. Its specialty is hand-dipped, hand-rolled chocolates.
"It's a lost art," said owner Dawn Campbell.
Campbell said they make each treat one at a time and focus on fresh food with good ingredients. Offerings include sandwiches, pastries, fresh-dipped strawberries, caramel apples with home-made caramel and fudge. Sugar-free options are available.
For 30 years, the shop, which also has a Claremont location, was in Oak Glen. Campell said the landlord sold the property and didn't renew the lease. Campbell, who was beginning to think about retiring or selling the business, said, "All of a sudden, you just have nothing." She decided, "OK, I'll build it again."
Campbell said the Redlands shop is "the best of both" the Oak Glen and Claremont locations. Oak Glen, she said, was more touristy, while Claremont focused on traditional holidays. She kept the sandwiches offered by the space's previous tenant because there was a clientele for them.
Campell, who lived in Redlands before moving to Oak Glen, originally wanted her business to be on State Street, but felt it wasn't yet developed enough. Now she's happy to be in downtown Redlands like she once imagined — with a tree out front.
The shop opened on Jan. 26, and Campell said she still had to scramble to be ready for Valentine's Day because she could not begin making goods until she got the green light to open. The story has lots of fun surprises in store for Easter including fudge eggs and bunnies. "Every holiday is going to be a fun treat for Redlands because they haven't seen it yet," Campbell said.
Reception to the new shop has been positive. Campbell said customers tell her it feels like "Hallmark – a down-home, downtown store."
"It's what I wanted it to be," she said, "a cozy, comfortable place where people can come.
Where: 233 E State St, Redlands.
Hours: 8 a.m. to 8 p.m. Monday through Saturday, 9 a.m. to 7:30 p.m. Sundays.
For more information: Call (909) 894-4950