One of the biggest frustrations of this pandemic is the loss of in-person celebrations, especially funerals, or, as some prefer, including me, memorials or "celebrations of life" for those we've lost from COVID or otherwise.
No hugs, no kisses. In lieu of all those memorials and celebrations we've missed, I would like to offer a tribute for two people who have been meaningful parts of my life here in Redlands.
Bob Leonard is one of Redlands' patriarchs with a family history going back generations. Bob turned 99 on March 2, and is still hanging in there at Plymouth Village despite a recent fall. It takes more than that to put a man out of commission who fought and was wounded at the battle of Okinawa during World War II, earning a Purple Heart.
I met Bob in 1982 when I dated his daughter. Although she and I didn't last, we've kept in touch. It helped that Bob and his late wife Arleen were kind and welcoming when I saw them from time to time, despite that break-up.
Several years ago, I wrote about Bob, his older brother, Dick, who also was remarkable, and other veterans who used to breakfast at the McDonald's near Redlands High. Bob also played tennis there in the 1930s and was a nationally ranked masters doubles tennis player with his partner, still winning matches well into their 80s. Happy birthday, Bob!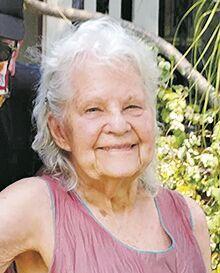 Helen "Sunny" Wallick: For 12 years a group of anti-war demonstrators stood on the corner of Orange Street and Redlands Boulevard. Although she was modest about taking any credit, one of the people who'd inspired that determined vigil, which ended in 2014, was Sunny Wallick.
Sunny — a nickname she acquired in high school and, as her daughter Amber says, always seemed appropriate — was a founder of Citizens Action for Peace, the group that held those vigils at what was soon called "Peace Corner." Besides the vigils, Sunny organized an annual CAP banquet for six years, honoring outstanding peace champions. She also selected movies about various issues related to peace and social justice, which were shown at the Redlands United Church of Christ.
She lined up speakers, including one of my most-admired peace activists, Blasé Bonpane, a former priest who had a radio program Sunday mornings on KPFK, 90.7 for many years, and Paul K. Chappell, director of the Peace Literacy Institute and  a West Point graduate and Iraq war veteran who authored many books including "The Road to Peace."
Another memorable speaker Sunny brought up was Cindy Sheehan, who lost a son in the Iraq war and famously camped out near George W. Bush's ranch in Texas, vowing she'd stay until he explained to her personally why her son had died.
G.W. ducked his duties and never talked to her.
For 27 years, Sunny taught at San Bernardino Valley College where she developed the first multicultural education course, and for 31 years at the pioneering Clare Cherry Elementary School in San Bernardino. In 1979, she helped to found the Concerned Educators Allied for a Safe Environment, now known as Parents and Teachers Allied for Children Everywhere.
Sadly, Sunny did not outlast our longest-ever war in Afghanistan, having slipped away peacefully from natural causes in January at 87. Her spirit, her unceasing and outspoken advocacy for peace and her optimism that peace will eventually prevail, lives on.
"You have to speak out," she said. "You have to! Talk to your neighbors. Talk to your friends. You have to speak out for peace."
Phill Courtney has taught high school English and was twice a Green Party candidate for Congress in Riverside County. He can be reached at: pjcourtney@earthlink.net.