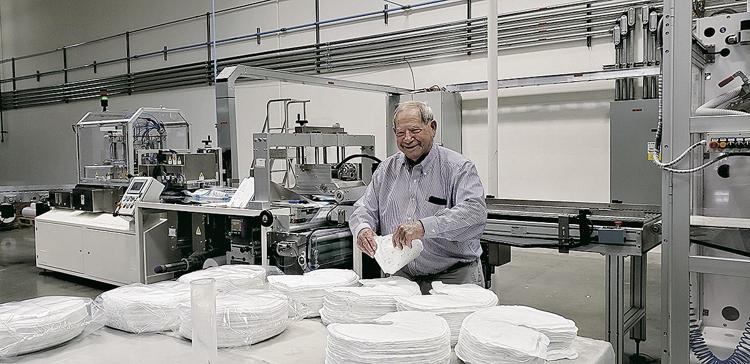 UI Medical, a new company in Redlands, manufactures QuickChange wraps for the medical world.
This new product is designed primarily for male urinary incontinence, but is also being considered as an alternative to the use of catheters in surgery, which expose the patient to greater risk of infections.
About four years ago, this most unusual and successful business was conceived by an experienced businessman after hearing about a wife caring for her bedridden husband because she could not afford hired help. Her challenges were many, including the task of lifting his obese body to change bed linens, which she did several times a day, because of his urinal problems.
After months of frustration, she was inspired to create a specially formed diaper, a wrap that did not leak onto the sheets. It served her husband's needs perfectly.
Baum Harris, a successful business developer, learned about her solution and met with her. After researching the concept with medical advisers, he offered to form a company with her to produce medical product. UI Medical was established and QuickChange was a success. Patents were obtained.
Harris traveled to Italy and consulted with Diatec, a world leader in the manufacture of machinery to produce absorbent products. Their team of engineers designed and built the unique and specialized machinery necessary to produce QuickChange. This equipment was disassembled in Italy, loaded onto shipping containers and eventually reassembled in Redlands under the supervision of the Diatec professionals. Raw materials are purchased from sources in the United States.
The entire production line of equipment is computerized and in the event of any problem, Italian advisers can connect with all of the machinery via internet.
Skip MacLean, director of production operations, said 80,000 wraps can be produced in an eight-hour day.
The wrap was tested in local hospitals and displayed at medical conventions.
"One of the largest distributors of medical products saw our display and called our product the 'wave of the future,'" Harris said. "Several hospitals have sent 'educators,' usually nurses, to learn about them, then teach others, the use of the wrap for hospital patients. These local hospitals are UI Medical's largest customers and all first-time orders have resulted in continuing reorders."
When Mayo Clinic did a test on 39 patients. they used the QuickChange wrap on 30 people and their traditional methods on the remaining nine.
Harris said doctors have expressed a desire to do away with catheters because they can cause bed sores.
"With our product there are no skin problems, no infections and nurses do not have to lift patients several times per day, which can often cause muscle injury to them," Harris said.
"We are seeking more medical educators, to work in our company and help teach in medical schools in California.
"This is our place, our factory. Our product is made in only one place in the world, here in Redlands."